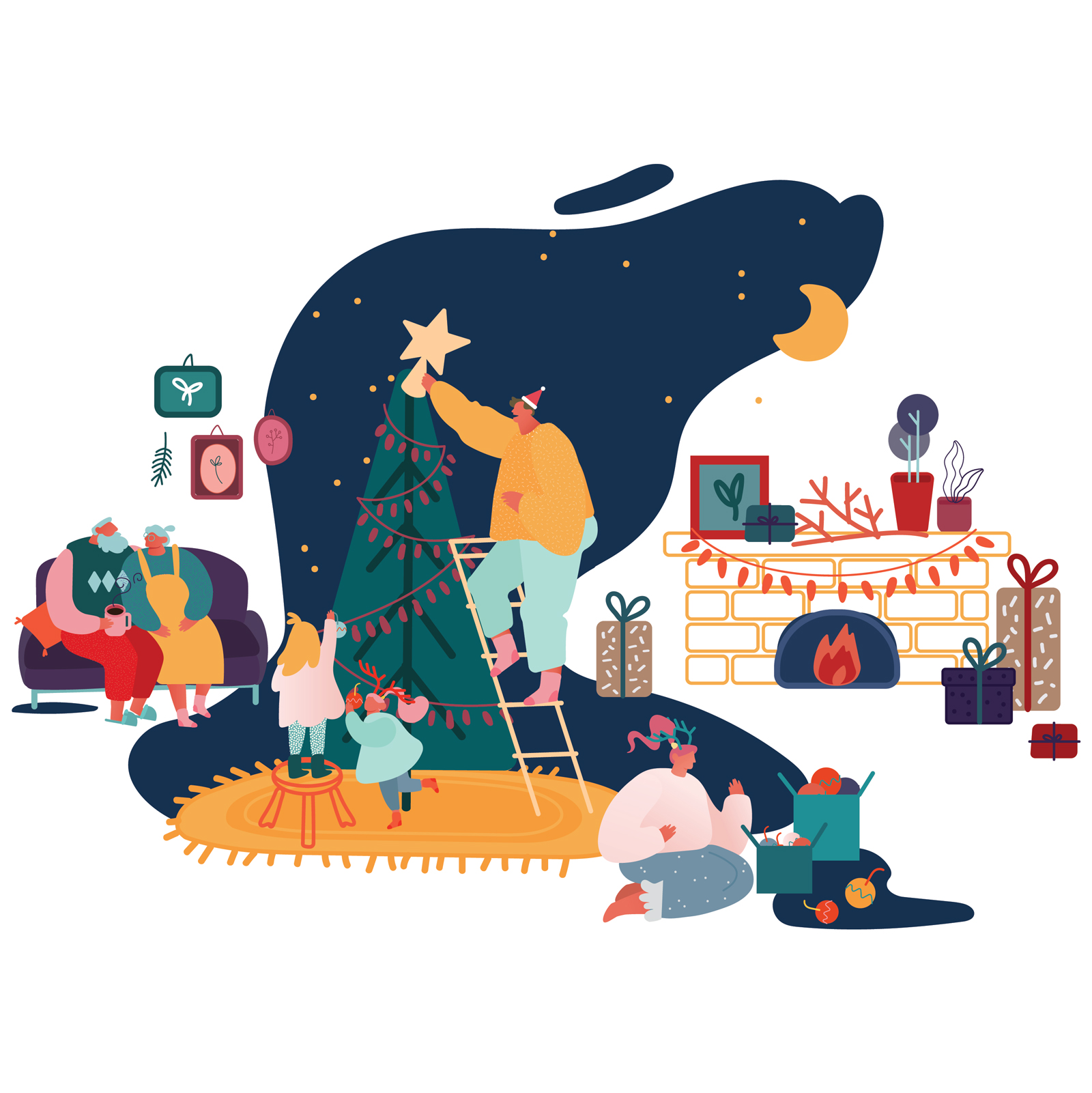 15 Ways to Celebrate This Christmas Season
"To see the smile on the families' faces reminds me of the joy that only Jesus can bring."
Here within the Peer Team, we love Christmas. It's right in the middle of winter and snow and hot chocolate … essentially, there's plenty of Christmas cheer to go around.
We asked past feature writers, department writers and Salvation Army officers and employees some of their favorite ways to celebrate the holidays.
What's your favorite way to spend Christmas?
"At home with family having fun celebrating the Birth of Jesus. [We read] Luke Chapter 2 before presents every year." —Micah Trimmer, Peer Movie Reviewer 
My favorite way to spend Christmas is with my family. It is the perfect time to gather and enjoy each other's company while we exchange gifts. We play Secret Santa each year and we like inviting friends to spend Christmas together. We make a lot of Latino food, and we play music with our instruments and sing." —Daniela Baptista, Peer Remix Writer 
Matthew Rosamilia loves spending time with his family. "I love to spend Christmas with my big family. I love it when everyone can be present, and all share a dish to stuff the dining room table." —Matthew Rosamilia, Profile (November 2021) 
What's your favorite Christmas season tradition?
"A tradition that my family has held since 2004 has been watching 'The Polar Express' in our pajamas as we set up and decorate the Christmas tree. Singing all the songs, drinking hot chocolate and going through all of the ornaments we have collected over the years always gets me into the Christmas spirit!" —Kirby Kelly, "The Media Mission" (October 2021)
Micah plays games with his family. "Our annual game of 'What' the day after Thanksgiving while we set up Christmas decorations. Anyone who says the word 'what' during the day is it until someone else says the word. We are constantly trying to trick each other into saying 'what' in clever ways." —Micah Trimmer
"One of my favorite Christmas traditions is the candlelight Christmas Eve service at the church I grew up in. We close the service with a quiet rendition of Silent Night in only candlelight—I have chills just thinking about it!" —Victoria Greenwald, "#Goals" (January 2021) 
"Also, getting a peppermint milkshake from Chick-Fil-A and blasting Mariah's Carey's Christmas album, while driving around and looking at all the neighborhood lights with my friends." —Victoria Greenwald
While opening presents, Matthew and his family share words of affirmation with each other. "My favorite Christmas tradition in my family, which we have started a couple of years ago, is sharing a special quality aloud about the person you are gifting to." —Matthew Rosamilia
Service is a valuable tradition in The Salvation Army. "One of my favorite traditions is writing thank you notes to people who thought of me and my wife that season by sending us a Christmas card. Another one is spending time at a Salvation Army Toy Shop or assisting on Angel Tree distribution day. To see the smile on the families' faces reminds me of the joy that only Jesus can bring." Emaniel Brifil, Peer Podcast Reviewer
"We have a street here in our town called Candy Cane Lane. It's where a whole block sets up Christmas lights and decorations; it's a tradition every year to either drive down this street with my niece or nephews or walk down with friends and hot cocoa." —Myunique Inez, "Being Vs. Doing" (March 2021) 
"My favorite Christmas season tradition is doing a Secret Santa. It's always so much fun!" —Tyler Mackie, Profile (January 2021) 
What's on your Christmas season bucket list?
The weather doesn't stop the Christmas spirit. "Living in Florida, we have 90-degree Christmases! Something that's on my Christmas bucket list is to experience a white Christmas in person." —Briauna James,  Peer Music Reviewer
"I have one Christmas bucket list. One I have been working on each year: to duplicate the amount of 'exterior illumination' and decorations Clark Griswold manages to put up in 'Christmas Vacation'! It's the most wonderful time of the year!  Last year, my house made a spot in our local newspaper for 'Best Christmas Lights' in Ashland, Ohio." —Major Billy Francis, Peer Wise Up Writer
"My Christmas season bucket list is filled with a ton of adventures. Two things that's on it that I really want to do are: spend time in the Maldives or in Aspen, CO. The beauty of both places is really captivating through pictures." —Emaniel Brifil
"Going to Switzerland for Christmas and spending my Christmas in the Alps with delicious chocolate." —Matthew Rosamilia  
For More Ideas:
"My favorite way to spend Christmas is with my family! I grew up in a house of nine and have a large family so spending it with family has been a huge thing since I was a child." —Myunique Inez
"My favorite Christmas tradition is going ice skating with my cousins." —Kaylynn Jones, Profile (September 2021 
Comments