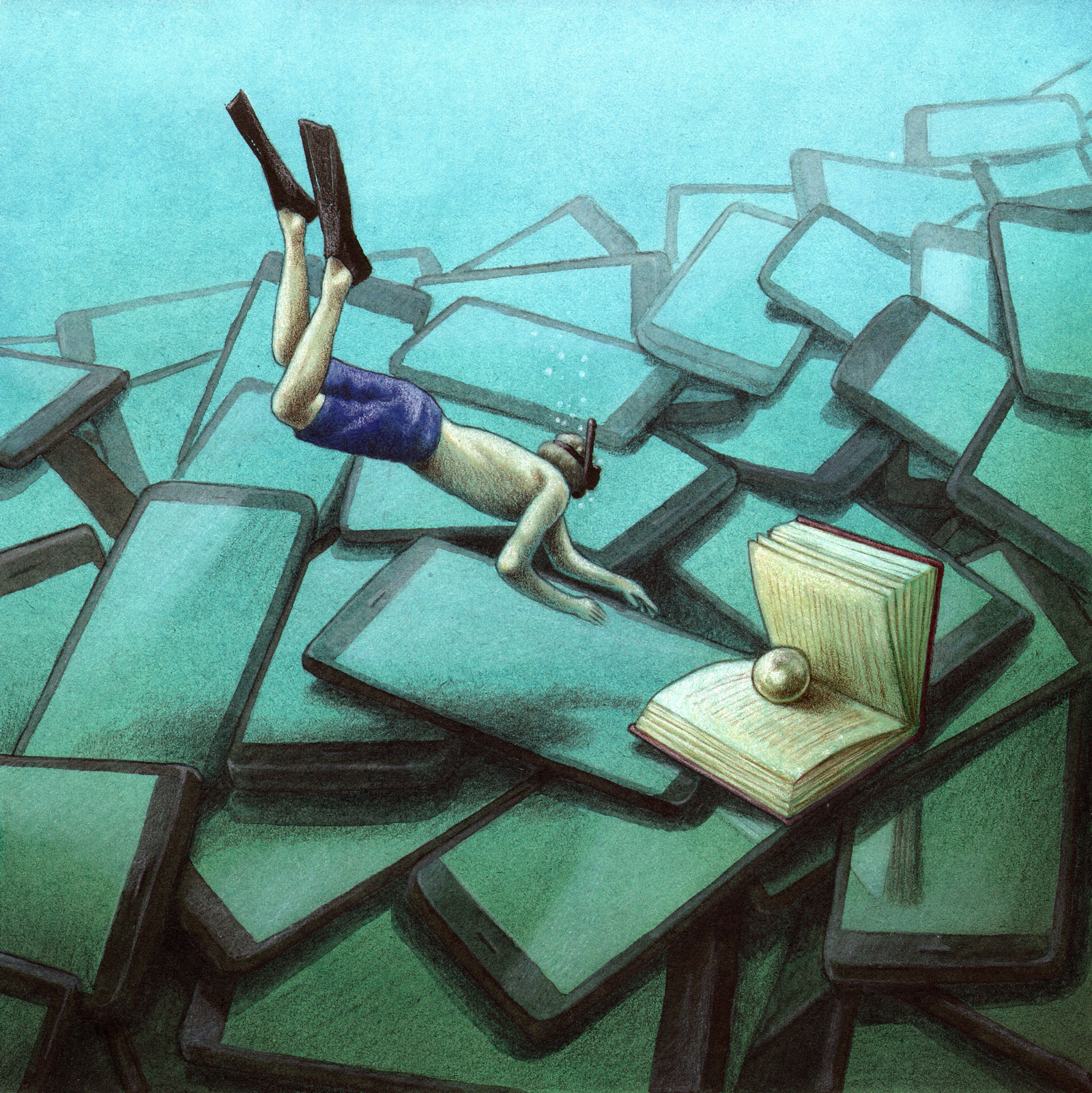 Image Credit: Pawel Kuczynski
Unhidden Treasure
Despite our access to resources, it is safe to assume that we are the most biblically-illiterate generation.
Without asking Google, can you name the 12 disciples or 10 commandments?

Struggling? You're not alone. I still have to hum a song in my head to list the disciples and utilize a handy memory tool to recall the commandments in order—and I'm a pastor.

This is not about serving up a dish of hypocritical judgment but sadly, the reality is that Americans' Bible knowledge and comprehension have plummeted to an all-time low. Although our present culture has the highest access to biblical resources than any other period of history, it's safe to assume that we are the most biblically-illiterate generation.
The Unread Bestseller
Recent studies show that only 11 percent of Americans have read the entire Bible and only nine percent have done so more than once. And even though nine out of 10 households own a Bible (the average household owning three), more than 50 percent of Americans have read little to none of the top-selling book of all time.
 The Bible has had a monumental impact and effect upon American history, literature and culture. Without having even a basic understanding of the Scriptures, we miss out on how much of life has been influenced by its words.
Take common idioms and phrases like:
Labor of love" 
"Go the extra mile"
"The blind leading the blind" 
"The writing on the wall"
"A house divided against itself cannot stand"

President Abraham Lincoln quoted Jesus in Mark 3:25 (NIV)
The benefits of better biblical literacy (try saying that five times fast!) lies deeper than literary comprehension. The truth is, we become what we behold. Our actions and lives are chiseled by what we study, observe, learn and feast upon. Yet the most influential, life-changing book sits dusty on our shelves. There is nothing more transformative than beholding God in His Word. So how then can we conform to the image of a God that we have not beheld?
"Although our present culture has the highest access to biblical resources than any other period of history, it's safe to assume that we are the most biblically-illiterate generation."
I also believe that we cannot love what we don't know. And if we say we love God, then we should know His Word. If you told me that you absolutely love (fill in the blank with your favorite musician, actor, artist), you'd most likely be able to sing every lyric, tell me their best movie quotes, know their history and follow their social media platforms. You would have learned everything you could about that group or person.
You would question a person's devotion if they said they loved Lauren Daigle or RAPLEE (find him on Spotify) but rarely listened to their music. Or if I said my favorite author is Francis Chan but I've never read his books, you would probably doubt my sincerity.
Biblical Literacy 101
By definition, biblical literacy is the acquisition and accumulation of facts about and contained in the Bible and the ability to recall those facts. However, a truer and definitely more impactful definition must include the ability to create meaning from what is read and written. It should not only be about facts and the ability to regurgitate them (although I do love a good quiz), but we must have the ability to use those fun facts to create meaning—about the world we live in, who God is and the purpose of life.
It's one thing to read a book and score perfectly on the test but another thing to allow the book's narrative to shape your thinking and transform your actions. If we really do care about this and desire to understand and improve true biblical knowledge that God our Father calls us to, we need to move beyond seeing it as a source of trivia, but as a necessary part of our daily needs. Our world isn't starving for more statistics—it is starving for meaning. 
Should we be able to list the two books named after women (Ruth & Esther) and which two men "never died" (Elijah & Enoch)? Should we read the entire Bible? Yes and yes. But we also need to keep in mind that being a Bible scholar isn't what makes us a Christian just like memorizing the periodic table doesn't make you a chemist!
Scripture reminds us:
"Do not merely listen to the word, and so deceive yourselves. Do what it says" (James 1:22, NIV).
"Hearing the law does not make people right with God. It is those who obey the law who will be right with Him" (Romans 2:13, NCV).
"Why do you call me 'Lord, Lord,' and not do what I say" (Luke 6:46, NIV)?
"He replied, 'Blessed rather are those who hear the Word of God and obey it" (Luke 11:28, NIV).
The Guide to Life's Instruction Manual
Too many church leaders and pastors instruct their church members to "read your Bibles!" But without instructions, planning and accountability, it's like commanding someone who has never worked out to "go to the gym!" They could have great intentions of getting physically fit but upon entering the intimidating room of equipment strangely resembling medieval torture devices, and making ardent attempts to follow what the tank-topped clad bodybuilders are doing, they run out screaming—never to enter again.
Similar to getting physically healthy, there are many reasons and excuses that keep us from starting to read and study the Bible. It's easy to say that we just don't have time to, but a quick look into our phone settings "screen time" will reveal we probably have the time, but spend it on other things.
Of course other reasons (and we get it—we've been there too) include: it's too confusing, it's boring, it doesn't really speak to me, I don't know where to begin, I'm not intelligent enough. Add to this our cultural cynicism towards Christianity and the Bible, and it's not very difficult to see there's so much working against biblical literacy.
Ready to Dive In?
Pray: The Bible is unlike any other book. It's God-inspired and we need His help to fully understand His truth and wisdom if we're going to allow His Word to change our lives.
Read: Dive into the Gospel of John, it's a great place to begin.

Another New Testament starting point is the book of Romans.
Find a Bible plan on the YouVersion Bible app.
If reading isn't your thing, try listening to the Bible with the Bible.is app (you can choose what language and version).

Connect: While studying the Bible on your own is wonderful, it's also incredibly beneficial to join with others. This allows accountability, growth and answers to those eye-raising passages. Good biblical literacy begins with good Bible study.
Resource: In this wonderful world of technology, we are blessed with an abundance of Bible tools right at our fingertips. Visit peermag.org/articles/unhidden-treasure for more "For Further Fun" ideas.
It's never too late to begin. Plus you never know when some late-night talk show host might stop you in the street and quiz you on your Bible knowledge.
For Further Study
Resources to help you understand Scripture more:
Thebibleproject.com provides great podcasts and videos
Scripture Typer or Verses App: handy to help memorize Scripture
Youversion Bible app
The Bible Binge: a podcast found on iTunes hosted by Knox McCoy and Jamie B. Golden
Gospel in Life podcast found on iTunes by Timothy Keller
Research:
Women of the Word: How to study the Bible with Both our Hearts and Our Minds by Jen Wilkin
Learn how to study the Bible in a 5-Day plan with Jen Wilkin: https://bit.ly/32PVt9y
LifeWay Research on reading the Bible: https://bit.ly/3c77Ulg
Watch Rosaria Butterfield's video: https://bit.ly/38VmpXn
Practical Tips for Growing in Biblical Literacy: https://bit.ly/2vfsVcW
The Chaplain's Report: https://bit.ly/2vbDTQR
Captain Shannon Martinez and her husband, David, are officers (pastors) in Eastern Michigan at the Dearborn Heights Citadel and the Wayne Westland Corps (church). They have five sons (Ed, Elijah, Samuel, Malachi and Zion). Shannon enjoys reading, running, praying, studying God's Word and eating chocolate chip cookies.
Comments