Q&A
Q&A: FourHymn
Joe, Nick, Nathanael and Karl came together in 2015 to form this contemporary Christian music group.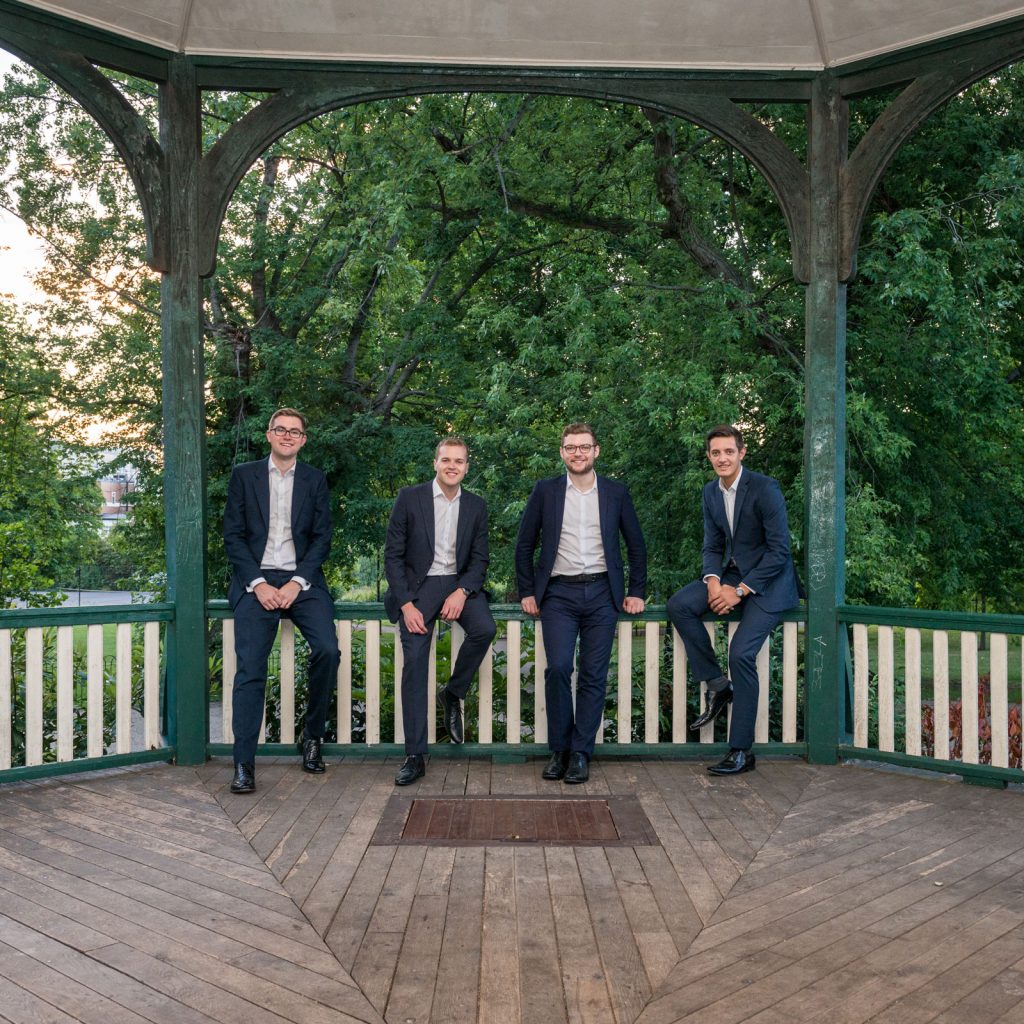 What do you get when you join a project coordinator, police officer, building surveyor and music editor? FourHymn! Members of The Salvation Army in England, Joe, Nick, Nathanael and Karl came together in 2015 to form this contemporary Christian music group.
PEER: What do each of you do for a living? Why do you make Four Hymn a priority in the midst of your busy schedules?
JOE: I am currently a Project Coordinator for The Salvation Army and I help organize, plan and run the Children & Youth Camps for the Southeast of England. As a group, we try and fit in anything that comes our way! Normally, one of us or our manager, Helen, will get an email and we just ping it around to see if we can do it and then move forward with details from there. We love doing what we do and have even had to take time off sometimes to be able to fit things in. 
NICK: I'm a police officer with the Metropolitan Police Service in London. FourHymn is a priority for me because we see time and time again how God connects with us and then with people that we share ministry with. It is where I personally receive so much blessing and connection with God and the fact that I then get to share that with other people who buy our CDs or come to our concerts makes it really special. 
NATHANAEL: I am a qualified building surveyor working for a large practice in London. We try and maintain weekly rehearsals and monthly engagements. For me, I feel God has called me to part of this group and as long as He wants us to continue our ministry, I will continue to give everything I can. 
KARL: I work for The Salvation Army in the UK territory's music editorial department. My job consists of proofreading and editing sheet music published by the Army, as well as visiting music schools and corps around the territory. I love the job, and it has become a really important ministry for me. For me, FourHymn goes hand-in-hand with my work. It gives me the opportunity to travel across the territory and meet lots of different people at lots of different corps (churches).
PEER: Describe what it's like working together. 
NATHANAEL: I love it! We all bring different things to the table and it comes together to be the amazing expression of faith and friendship that it is! It's not just the four of us that create that—we are so lucky to have an amazingly talented band and support network behind us. 
JOE: It's both a blessing and also stressful because we're such good mates. When it comes to rehearsals, it's not always that productive as we tend to joke and mess around, however, it always seems to come together quite well! Rehearsing and spending time together is great fun—which can sometimes be a break from our busy and hectic schedules. (It's the banter that truly makes a FourHymn event a great laugh for us all, especially if we have the full band with us.)
NICK: It is always so much fun. We find ways to build our friendships through rehearsals and all the time we spent together over the past few years. A lot of the time we have to remind ourselves to rehearse as we carried away spending that time together! 
KARL: We naturally all took on different roles for FourHymn. We've never had to really sit down and say, "you need to do this." Saying that, Helen, our "manager," came on board pretty soon after we started. She's been a bit of a lifesaver. As our schedule got busier, it was so tricky to balance everything. So, Helen has been sorting out all the admin side of things, giving us the space and time to work on the music and spiritual stuff.
"God isn't counting your slip-ups. He's ready, waiting for you to turn to Him."
PEER: What motivates you to keep producing music for this generation?
NATHANAEL: Personally, I write music that I feel God has laid on my heart and trust that the Message that is true for me can be relatable to someone else. Our most recent album "Home" is an album of personal testimony and we each contributed music and words that are from our own journeys and experiences. 
JOE: My motivation to keep producing music is to explain who I am and who I've become by choosing to follow Jesus. One of the most powerful things that a Christian can share is their personal journey with Christ. We must never forget the power of sharing our story and walk with God because we never know even through our struggles and mountaintop moments who may be experiencing similar situations or have been through those times before. I've found that people engage with what is relevant and personal to them even though it could be personal to others as well. I have a voice to sing and I want to glorify God with this gift that He gave to me.
NICK: My motivation to keep going with producing music is to share our deep connection of worship with others and for the Kingdom. God uses us through our music—what a privilege! 
KARL: God keeps us motivated. It's in the name—all we do is "for Him." We want to show that being a Christian is fun, and we feel that the best way to do that for us is through this music.
PEER: Who are your musical influences?
JOE: Some of my favorite musicians and groups are: Casting Crowns, Pat Barrett, MercyMe, Shane & Shane and We Are Messengers. I also love Lewis Capaldi and Ben Platt. I think I love all of these artists because they love to tell a story with their music and through anything I've written, I've always tried to tell a story.
NATHANAEL: A huge variety! I listen to lots of film and classical music but in terms of influences for FourHymn, we love the Gaither Vocal Band, Casting Crowns and people such as Phil Wickham. One group in particular who has had a big influence on us, following their performances at the Boundless Congress, are a group of American Salvationists "Transmission." 
NICK: My main influencers have been the Gaither Vocal Band and all the music that has come from their influence. 
KARL: As a group, the Gaither Vocal Band are a big influence. They helped us pick our original repertoire. Now it's a bit more eclectic. For me personally, that's a bit hard to say. I am always surrounded by musical people, so I feel like each day I am being influenced by so many different people.
PEER: How do you maintain your faith? 
JOE: I maintain my faith by questioning what I do and why I do it … there have been times when I've not questioned myself or my actions and I've strayed from the path that God wants me to follow. I try to remember that we all live in a whirlwind of highs and lows and in the valley moments we must remember that God sees us and does not forsake us. Knowing God doesn't stop those valley moments occurring but knowing Him and His love helps us walk through the valley and out the other side. We also must remember that when we stand on the mountaintops and are basking in the glory of success or achievement, that it's God's provision and grace that got us there. So that's what works for me: questioning and reminding myself.
NICK: I maintain my faith through small group belonging, through my relationship with my wife and by serving in the Church as a mission leader. All of these things help keep me accountable. I don't find faith easy, but this really does help. 
NATHANAEL: For me, my faith is maintained by my giving. I am an active member of my local corps (church) where I look after the YP band and am a member of the brass band and the worship team. This allows me to express my faith and experience God anew each week. 
KARL: I find that talking to people about my faith is the best way to maintain it. Through those conversations, prayer and studying the Scripture happen. I feel that God has a lot to say through other people, and I've learned so much from spontaneous conversations with people about faith.
PEER: What advice do you have for young people who are on this faith journey?
KARL: Don't be ashamed when you get things wrong. It's all part of life. God isn't counting your slip-ups, He's ready waiting for you to turn to Him. 
NICK: My advice for the younger generation is to realize your calling is first and foremost to Jesus Christ. Sometimes, imperfect institutions can get in the way of that but always lift your eyes higher and above the mess of humanity. We make it too hard sometimes when it's really a lot easier! 
JOE: Whatever you are going through or have gone through, other people are going through the similar things. YOU ARE NOT ALONE! Be true to yourself and be true to others. Have integrity and show kindness through forgiveness to those who may upset or hurt you. It hurts you more to hold onto those things. Trust in God. God will never let you down but understand the truth of what you may be asking Him as what His Will is for your life may not be what you are expecting. Don't be disheartened when you ask for something and God does not provide that thing. He'll be providing you with other things, you'll just need to open up your mind and heart to see the bigger picture.
NATHANAEL: Seek God out, find Him in the things that speak to you most. For me that is music, but it might be art, words, nature.
PEER: What are your favorite Bible verses? 
JOE: I think my favorite Bible verse is probably that of Psalm 91 (The Passion Translation). I love reading through this passage with a reassurance of God's protection over my life. I also love listening to Shane & Shane's Psalms album of which they have a song based on Psalm 91 and listening to this track lifts me up.
NICK: I believe in a God of second chances: 1 Timothy 1: 15-16 (NIV). "Here is a trustworthy saying that deserves full acceptance: Christ Jesus came into the world to save sinners—of whom I am the worst. But for that very reason I was shown mercy so that in me, the worst of sinners, Christ Jesus might display HIs immense patience as an example for those who would believe in Him and receive eternal life."  
NATHANAEL: John 10: 1-10 (NIV), especially v. 10: "I have come that they may have life, and have it to the full."
KARL: My favourite passage is pinned up on my desk, so I am reminded of it regularly. Psalm 94:18-19 (NIV), "When I said, 'My foot is slipping,' your unfailing love, Lord, supported me. When anxiety was great within me, your consolation brought me joy."
Follow along with contemporary Christian music group FourHymn on Facebook at @fourhymnmusic and Twitter at @fourhymn. 
Comments