Profile
Meet Gary
"Known as an avid reader, artist, optimist and poet, Gary's life continues to inspire others."
"Blessed are the poor in spirit,

for theirs is the kingdom of heaven.

Blessed are those who mourn,

for they will be comforted.

Blessed are the meek,

for they will inherit the earth.

Blessed are those who hunger and thirst for righteousness,

for they will be filled.

Blessed are the merciful,

for they will be shown mercy.

Blessed are the pure in heart,

for they will see God.

Blessed are the peacemakers,

for they will be called sons of God.

Blessed are those who are persecuted because of righteousness,

for theirs is the kingdom of heaven."

—Matthew 5:3-10
Roughly 747,000 days have gone by since Jesus spoke those words out loud to His disciples, and they remain true to this day.
Jesus was considered a "radical" of His time; Someone that shook up modern society by calling out hypocrisy and injustice. He welcomed the outcasts and embraced those that felt unlovable.
Gary inspires those around him in similar ways. His genuine heart for people is aligned with Christ's mission to serve. For three years, Gary remained as his father's primary caregiver through a difficult battle of lung cancer that progressed to the brain. Gary was by his father's side to the end.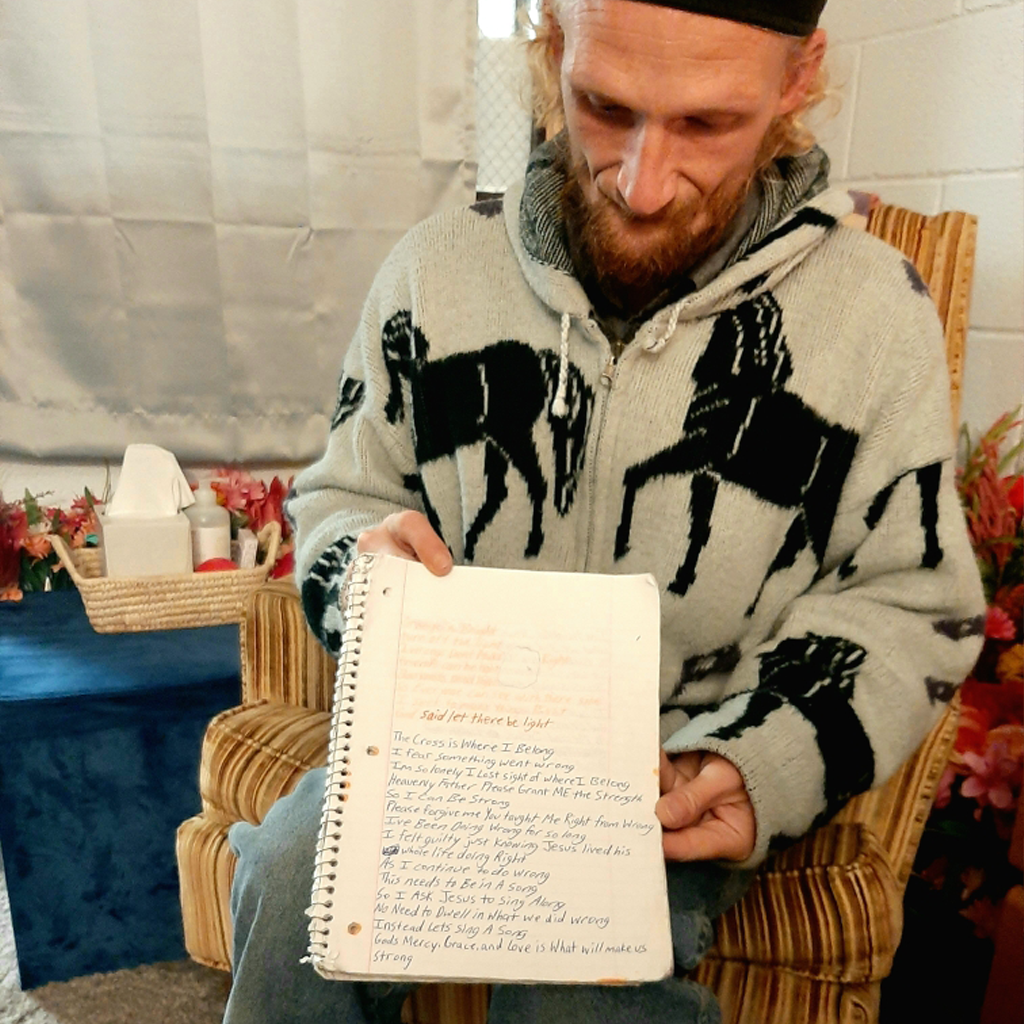 Gary expresses himself most powerfully through poetry. In one instance recently, a gentleman was sharing of his struggle with alcoholism. Gary responds with a poem he had written. With each verse, the man's eyes fill with tears as he learns about God's love for him during difficult times. Gary concludes and then opens his backpack, offering a Bible to his fellow man. His authenticity comes from a place of knowing the dark side of substance use—one instance has affected him permanently. Five years ago, heroin laced with Borax laundry detergent power caused a near fatal reaction in his body. Gary's legs became like swollen balloons ready to burst. Doctors cut him on either side of his shins and up the side of his hip to alleviate the building pressure. His toes on his right foot had to be amputated.
Then experiencing drop foot, Gary underwent yet another surgery where his Achilles tendon was cut and shortened to lift his foot back to a neutral position. He recalls the physical therapy goal of walking up 20 steps before he was able to be released. The following 11 months were spent recovering in a nursing home, learning to walk again. Gary succeeded in his treatments.
The Salvation Army has been a reliable resource in Gary's life for nearly 10 years. He appreciates the meals that are served and enjoys the socializing that it offers him. Known as an avid reader, artist, optimist and poet, Gary's life continues to inspire others.
When asked what this organization means to him, he responds with a smile & a single word: "Community."
By: Kaitlyn Moyes
Gary's favorite poem he's written:
The cross is where I belong

I fear something went wrong

I'm so lonely I lost sight of where I belong

Heavenly Father please grant me the strength

So I can be strong

Please forgive me, you taught me right from wrong

I've been doing wrong for so long

I felt guilty just knowing Jesus lives His

whole life doing right

as I continue to do wrong

This needs to be a song

So I ask Jesus to sing along

No need to dwell in what we did wrong

Instead lets sing a song

God's mercy, grace, and love is what will make us

Strong
Please email: [email protected] for a collection of Gary's poetry.
Share your comments & encouragements for Gary by going to:
Comments