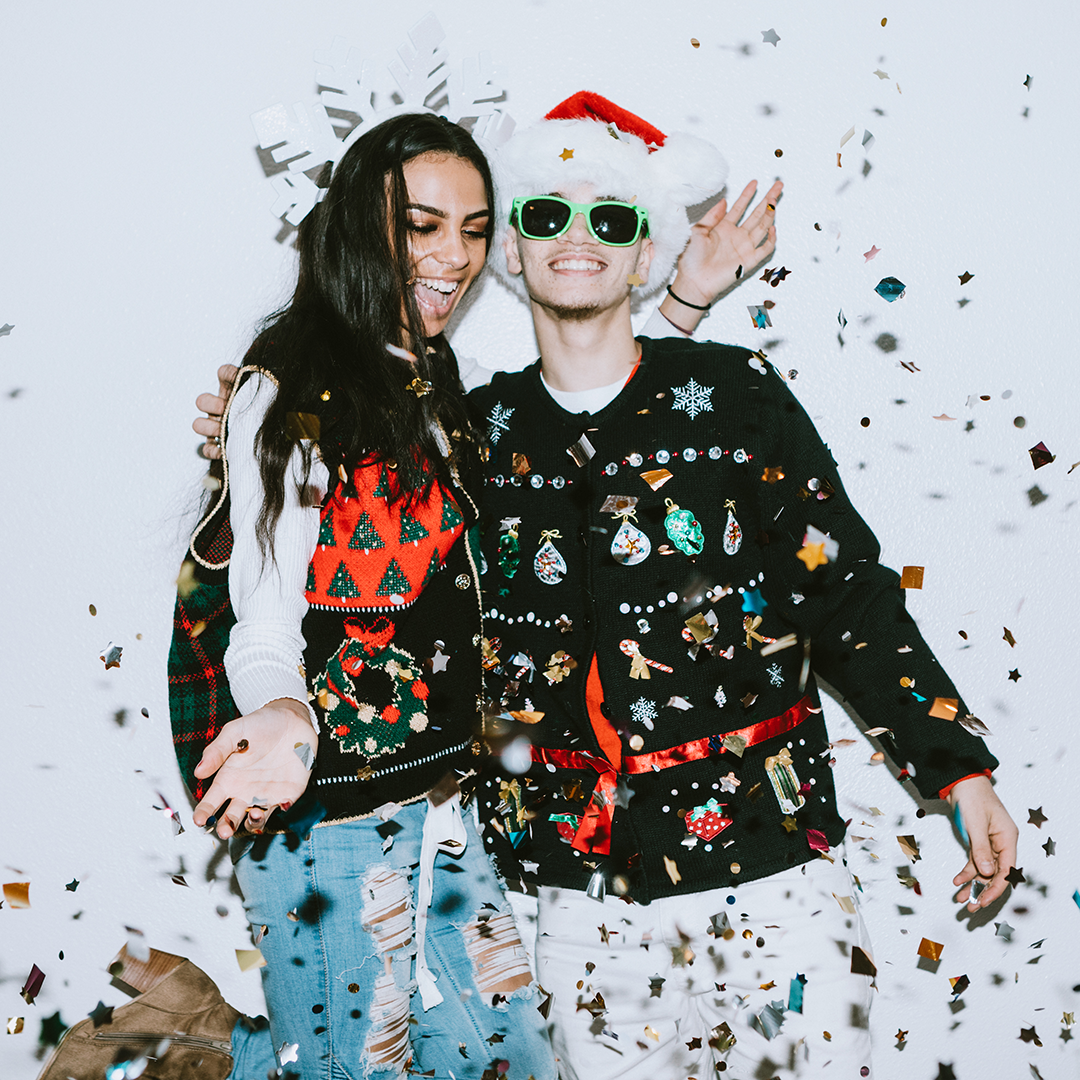 Web Exclusive
28 Songs You Need On Your Christmas Playlist
Tis the season! Olivia Scherzer shares 28 songs to get you in the Christmas spirit!
I don't make the rules, but you can absolutely start listening to Christmas music on November 1. Pro Tip: You're allowed to make your own rules. I took a break from streaming All Too Well (10 Minute Version) (Taylor's Version) to listen to my Christmas music playlist.  
The beauty of Christmas music is that no matter what genre you enjoy, there's a song for everyone. Country artists like Blake Shelton, Carrie Underwood, and Brett Eldredge release heartwarming, fun Christmas songs, while pop artists like Ariana Grande, Justin Bieber, and Mariah Carey continue to shine with their respective Christmas albums.
Here are some of the songs that I listen to when the holiday season hits.
All I Want for Christmas Is You by Mariah Carey
If you don't include this in your list, let's talk. First, she's the queen of Christmas. And even if you don't like Mariah Carey herself, this one song spreads holiday cheer just off the first five notes alone. There are other great songs that you can listen to, but seriously, add this to your playlist—like now.
Christmas Tree Farm by Taylor Swift (Taylor's Version)
Perhaps the greatest lyricist born in 1989, Taylor Swift wrote this while on Christmas vacation in London and released it only five days later. Her re-recorded version, an "old-timey version," can only be found on Amazon Music. Go listen to both versions to get into the Christmas spirit.
Mistletoe by Justin Bieber
This song warms my heart every time I hear the first few notes of the tambourine in the intro. It immediately brings a smile to my face. This song has turned into such a classic for me, that I absolutely must play it every Christmas season.
Cuddle Up, Cozy Down Christmas by Dolly Parton
If you're a country music fan, you need Dolly Parton on your Christmas playlist. Dolly Parton is the designated queen of country music. She released this Christmas song in 2020, and if you can't get enough of Dolly, stream her Christmas movie, "Christmas on the Square," on Netflix.
You Make It Feel Like Christmas by Gwen Stefani ft. Blake Shelton
I like both country and pop, so this song by husband-and-wife duo Gwen Stefani and Blake Shelton is a great Christmas listen. Even if you're not a country music fan, I promise you won't get enough of his Christmas love song.
Little Drummer Boy by for KING & COUNTRY
Featured on their "A Drummer Boy Christmas" album, this is a more traditional yet rock-sounding version of the classic Christmas carol. It starts out slow, and then the beat drops at the chorus and brings in more voices towards the middle. Overall, I recommend.
Underneath the Tree by Kelly Clarkson
When this song comes on, the biggest smile immediately lands on my face. This song is so fun and upbeat. It makes me want to scream Christmas to everyone I know. I must say, Kelly Clarkson may be in my top five artists when it comes to Christmas music (although she's talented no matter what she sings).
Holly Jolly Christmas by Michael Buble
If Mariah Carey is the queen of Christmas, then Michael Buble is the beloved prince of Christmas. Not only does he have his own Christmas album, but he also has collaborated with artists including Dolly Parton, Mariah Carey, and Idina Menzel on various Christmas songs. "Holly Jolly Christmas" is just another song by the Buble to add to your Christmas playlist.
Hallelujah by Pentatonix
This song gives me chills every time I listen to it, and yet sometimes, I skip it because I want a more fun song. Still, I can't resist putting this on my Christmas playlist.
Mary, Did You Know? By Pentatonix
The moment when I start playing Christmas music, Pentatonix's rendition of "Mary, Did You Know" is one of the first songs to hit my ears. This is one of my favorite hymns, and specifically this cover is breathtaking.
What Christmas Means to Me by 98 Degrees
It's a boyband Christmas! Even if you're not a 98 Degrees or even a boyband fan, you must add this song to your list. As a younger millennial, I can't resist a good boyband. When I found that 98 Degrees has a Christmas song, I immediately added this to my playlist.
God Rest Ye Merry Gentlemen by Pentatonix
Like most Pentatonix Christmas music, this song starts out in its traditional format. Then, after 30 seconds, it gets to its more pop sound, and you just want to bounce along to it (or at least I do). Go listen to it, and then go try the TikTok challenge that everyone (including Pentatonix) has tried.
Go Tell It On the Mountain by Pentatonix
Pentatonix is a must-listen for Christmas. Again, this song starts out slower but then gets you up and moving in their rendition of a classic, traditional Christmas hymn.
Drummer Boy by Justin Bieber, Busta Rhymes
Justin Bieber didn't have to go all out on this song, but he's also Justin Bieber and we are blessed with this Christmas dance song. I love Justin Bieber's energy, and we cannot ignore the sensational rap session in the middle.
Rockin' Around the Christmas Tree by Brenda Lee
The younger generation may stream Miley Cyrus's version of this song, and while her version is great, but I'm here to tell you that Brenda Lee's version of Rockin' Around the Christmas Tree reigns supreme. If you don't put this on while you're decorating your house or baking Christmas cookies, then you're doing it wrong. (Or not, you can make the rules.)
It's Beginning to Look a Lot Like Christmas by Michael Buble
It doesn't look like Christmas until you've played Michael Buble. Go ahead and stream his entire Christmas album collection while you're decorating, on your commute.
It's Beginning to Look a Lot Like Christmas by Bing Crosby
A lot of these songs are remakes. Many artists cover the same song (Baby, It's Cold Outside is a good example), so this song, "It's Beginning to Look a Lot Like Christmas" is a classic that many artists cover. His smooth voice is a staple on my playlist.
Blue Christmas by Elvis Presley
Elvis's Christmas album is a Christmas classic; these songs are great for the holiday season, but his rendition of "Blue Christmas" is a favorite. I recommend streaming his entire Christmas album, comprised of both Christmas carols and gospel songs.
Like It's Christmas by the Jonas Brothers
When the Jonas Brothers release a Christmas song (2019), you instantly play it. I was among the tweens who listened to the Jonas Brothers, watched Disney Channel shows like Hannah Montana, Suite Life of Zack and Cody and That's So Raven. Go ahead and play their 2019 song, "I Need You Christmas."
That's Christmas to Me by Pentatonix
A truly, whole-hearted, delightful Christmas song done by Pentatonix that you can't help but play this Christmas season as you spend time with loved ones. What does Christmas mean to you?
Santa Tell Me by Ariana Grande
A more pop sound, but still a goodie. Ariana Grande isn't someone I expected to release a Christmas album, but her pop sound mixed with R&B gives a fun Christmas song to bop along to while setting up your Christmas tree. The high notes that she hits in this song will have you screaming along.
Jingle Bell Rock by Bobby Helms
The millennials claimed this song when it appeared in "Mean Girls" (2004), but Bobby Helms released this single, "Jingle Bell Rock," in 1957.
When You Believe (with Maren Morris) by Pentatonix, Maren Morris
This Pentatonix rendition, featuring Maren Morris, hits me in the feels just like any other Pentatonix song. As Christians, we're reminded (in this song) that we have a God in heaven that looks out for us and watches over us. This is definitely a song to add to your playlist. (And go ahead and check out the version done by Mariah Carey and Whitney Houston, too.)
Grown-Up Christmas List (feat. Kelly Clarkson) by Pentatonix
This is another Pentatonix Christmas song that makes me sob (and eat Christmas cookies while doing so). Kelly Clarkson's voice is one-of-a-kind, beautiful and soulful. The lyrics are what a grown-up would wish for, talking about things like world peace, combatting loneliness and good winning over evil.
Hark! The Herald Angels Sing by Pentatonix
What I love about this song specifically is that it begins like the traditional hymn you'll sing in church. Then the beat drops and we're brought into this pop song that you'll want to sing along to. We love this song; an oldie but a goodie.
O Come, All Ye Faithful by Pentatonix
Pentatonix doesn't need to go hard on their Christmas renditions, but alas, they do. This is one of my favorite Christmas songs by the a cappella group, and not just because of the percussion beats in the song. Although they make it more pop, they keep the traditional hymn in their rendition. It's a classic that you must include in your playlist.
O Holy Night by Carrie Underwood
Carrie Underwood released a Christmas album in 2020 when a lot of people needed hope. With her beautiful, smooth voice and country style, I recommend adding this to your playlist.
I'll Be Home for Christmas by Brett Eldredge
As somone who loves country music, Brett Eldredge makes my playlist. His rendition of "I'll Be Home for Christmas," off his Christmas album (2016), is a must listen.
What's on your Christmas playlist?
Comments