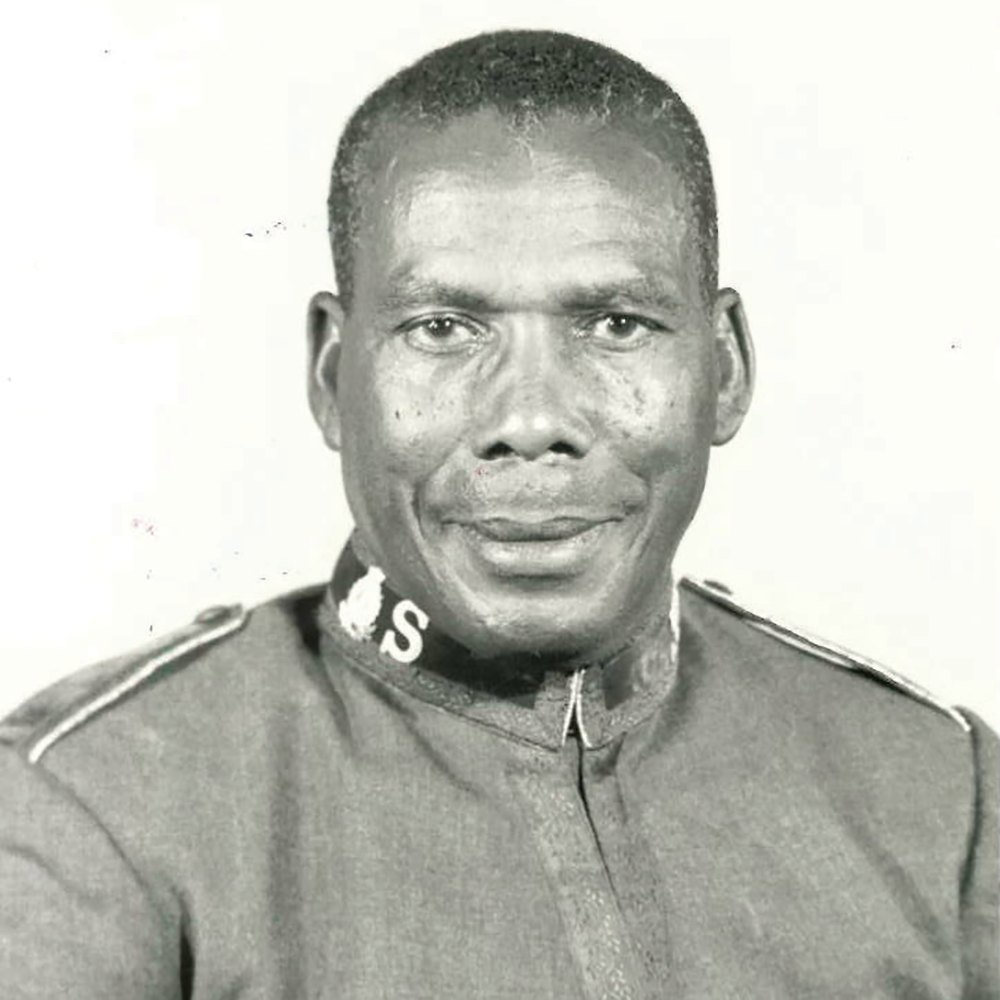 You've heard it in church. You've heard it at pageants. You've even heard it on The Peanuts special when Linus recites the story to Charlie Brown. The Nativity—as told in Luke 2—is as iconic as it gets. The first ones to hear of Christ's humble birth were the shepherds. An angel told them of the "good news that will bring great joy to all people" (v. 10, NKJV), and more angels joined saying: "Glory to God in the highest, and on earth peace, goodwill toward men!" Joshua Ngugi, a young herdsman from Kenya, discovered Christ in a similar way.
DESTINED FOR GREATNESS
Ngugi grew up as part of the Kikuyu—the majority tribe of Kenya—with his parents, seven brothers, and one sister. At age eight, he began tending his father's sheep and goats. This was honorable, for in Kenya shepherds were highly regarded for providing much wealth to the tribe.
Three years later, along with several young herdsmen, Ngugi was sent to take care of the flocks at the tribe's grazing grounds. Each night they brought the animals into little huts for shelter. The boys slept in these huts to keep warm at night, too.
One evening, Ngugi woke up to the sound of cawing birds. "As we pushed our way outside we saw with horror that several of the huts were on fire," Ngugi recalled (The Officer, December 1975). "All the boys escaped but ninety-five of our goats perished, and only the flocks in my care escaped unharmed." Why Ngugi and his flocks had been miraculously spared was something he pondered throughout life.
ANGELIC VOICES
If it meant something, time would later tell. But for the coming years, life carried on as usual. That is, until he turned 14. At this time, Ngugi asked his father if he could leave the flocks and seek different work. Soon, he was working at a *wattle factory.
Working in the fields one day, Ngugi heard singing from his female coworkers. The girls were students at a local Christian school who were working during their school holiday. Like the shepherds on Christmas night, this former herdsman heard the good news of Jesus from angelic voices glorifying God in the fields. Their voices were beautiful—almost heavenly. He got close enough to make out the words of their song: "Yesu Nakupenda, Umali Yangu"—"My Jesus, I love thee." Ngugi was moved to tears and didn't understand why.
THE SCOTTISH MISSION
This was his first introduction to Christianity, and he wanted to learn more. He returned home to ask his father for permission and money receive a formal education.
At 15, Ngugi enrolled at the Scottish mission school, the same one the singing girls attended. In addition to his schooling he worshiped with his peers, and learned more about God and his newfound faith.
Upon returning home for a visit, Ngugi was confronted with a dilemma. Non-Christian rituals were the norm for his family—often involving animal sacrifices—and Ngugi no longer wanted to participate. When he refused and spoke of God, it caused great family strife.
In order to grow in his faith, Ngugi felt he had to move on from his family. He left to work in a garden, as well as on a dairy farm to earn enough money to keep going to school. Not long after, Ngugi returned to Nakuru, where he had initially found employment.
A WAR CRY RESOUNDS
In Nakuru, Ngugi became interested in The Salvation Army. After reading the Sauti-ya-Vita (the East African version of The War Cry), he was convinced of his deep need for God and became a Salvationist.
"I had a vision of myself preaching…and travelling to many places with the message of the Gospel," Ngugi recalled (Unsung Heroes, 2007). Many moments made him feel he was being led toward full-time service, but this would take years to fully pan out.
Working towards this path, Ngugi read the Bible and became increasingly interested in the story of Joshua. He was so impressed by this man's life and work that he gave up his Kenyan name and called himself Joshua.
His life changed in more ways that just a name change, though. In 1937 he married Bathisheba Muguri. Seven years later, they entered the training college in Nairobi, despite heavy opposition (Joshua's previous employer pursued him with a gun and took legal action to try and keep him from leaving!). Eventually, in 1945 he was commissioned as an officer.
REBELLION
Work for officers in Africa was extremely demanding. They were expected to "devote the whole of their time and energy to the work of spreading the Gospel, but there was no provision for a regular allowance for their needs" (Unsung Heroes, 2007).
God provided for them, yet troubles still abounded. In the 1950s, the Mau Mau Rebellion broke out, and dissatisfaction over British colonial rule created violent divisions within the Kikuyu and European communities. Because some Kikuyu protestors attacked white settlers and their African servants, all Kikuyu people were under government suspicion.
"It was a very difficult time for The Salvation Army. White missionaries were threatened and government authorities reacted with cruel force against those they saw as their enemies. …[The Ngugis] proved to be an excellent bridge between the many Kikuyu Salvationists and the white leaders of the territory. Their calmness and loyalty in the face of great provocation allowed the Army to stay united and focused on its main task of bringing people to Jesus. …Joshua continued to minister to his own people, caring for their needs, understanding their grievances but speaking out against violence. The local authorities recognized the importance of their work and specially requested that they should be allowed to stay and work among their people" (Unsung Heroes, 2007).
MIMICKING THE GOOD SHEPHERD
Everywhere he went, Ngugi sought to preach the Gospel. He acted as a counselor for those trying to live out the Christian life, provided opportunities for meaningful fellowship with other Salvationists, set up Bible studies, led worship and devotions, resolved tribal problems within the community, and ministered to people however he could. In 1975, he was promoted to commissioner, and in 1977 Ngugi became the first African officer to serve on The Salvation Army's High Council. Under his leadership, the territory grew so large that it became the largest unit in the world. But the territory's size was never a concern for Ngugi—the spiritual growth of the church was. After seven years of leading his home territory, Ngugi retired in 1982. He was admitted to the Order of the Founder in 1998 for his faithful work serving Christ's flocks.
*wattle: a type of bark used to make construction materials, particularly poles interwoven with branches.
seeing Clearly
Unlike in Kenya in Ngugi's day, shepherds in biblical times were considered lowly. How strange it must have been for these humble workers to be the first ones to hear that the King and Savior of the world had come—and to hear the message from angels, no less!
The shepherds are symbols of Christ, the Good Shepherd (John 10:11). In the end, it didn't matter what society thought about them—God used them powerfully for His divine purpose. As humans, we don't immediately see God's purpose or the full picture, but we shouldn't doubt the plans He has for us (Jeremiah 29:11). Ultimately, how God sees us matters more than how society see us.
UNLIKELY EVANGELISTS
The young schoolgirls could evangelize to Ngugi through their simple faith and songs. They didn't need to be traditional preachers; God used them to build up His Kingdom by just being themselves.
Ngugi was an unlikely evangelist, too. He had never even heard of Christ growing up and had only started his education as a teenager, yet he built up the territory to be the largest The Salvation Army had seen.
If you've ever felt that you weren't good enough, smart enough, or devout enough, it's time to transform your thinking. God has a purpose for your life! Trust Him, lean on Him, and live for Him, so that He will transform your 'shortcomings' into something grand (2 Corinthians 12:9).
This article was originally published in the December 2017 issue of YS.
Comments