Hold Up, What Does That Actually Mean?
"For I know the plans I have for you," declares the LORD, "plans to prosper you and not to harm you, plans to give you hope and a future."
This past spring, Netflix released a smash hit, "A Week Away," about the impact of church camp. There's a campfire scene where Avery, the lead female role, shares what God is doing in her life. Right before the mash-up of "Awesome God" and "God Only Knows," she quotes Jeremiah 29:11. Jeremiah 29:11 (NIV), probably one of the most quotable Scriptures, says, "For I know the plans I have for you," declares the LORD, "plans to prosper you and not to harm you, plans to give you hope and a future."
For many Christians around the world, Jeremiah 29:11 is their life verse. Not a problem at all, it's a great verse. However, let's make sure that we understand the context in which this verse was written. First, don't miss Jeremiah 29:4 (NIV), "This is what the LORD Almighty, the God of Israel, says to all those I carried into exile from Jerusalem to Babylon." The audience that is receiving these words are not American teenagers in the 21st century, but the Jews who have been yanked from their homeland and carried to a land faraway. Despite being ripped from their homes and carried away as captives to Babylon, God is asking the Jewish people to build homes and settle down in the new place. God isn't telling them to rebel against their captors, overthrow them, escape home. No. God is instructing the Jews to live peacefully where they are. He is working in ways they cannot see. He will return them home when He is ready.
Unfortunately, this verse can be taken out of context to suit our needs. Some people, as they quote this verse, think that God will make them rich, popular and powerful and that nothing bad will ever happen to them. This is a wrong interpretation. God never promises to us that He will make us rich, popular and powerful in the world. In fact, He actually says the opposite. God also never promises us that harm won't come to us. We live in a sinful broken world and the facts are that we will be hurt, busted and bent. Does God have plans for us? Absolutely. Does God want good things for us? For sure. However, let's not forget that God also gives us the freedom to choose. Sometimes, we choose things that will harm us. The Lord has plans for us, but we make the choice whether to obey or not.
We read our Bibles. We put the Truth into practice in our lives. However, sometimes we have bad days. Sometimes, we have bad weeks or months. Sometimes, a global pandemic shakes society to the core. It doesn't mean that God has abandoned us. It doesn't even mean that He doesn't care about us or has plans for us. Even in exile in Babylon or bad days or global pandemics that frustrate our plans, we can remember Jeremiah 29:11-13 with the emphasis on verses 12 and 13. "Then you will call upon me and come and pray to me, and I will listen to you. You will seek me and find me when you seek me with all your heart" (NIV). We find Him in exiles, rough seasons and pandemics; He still has plans for us all.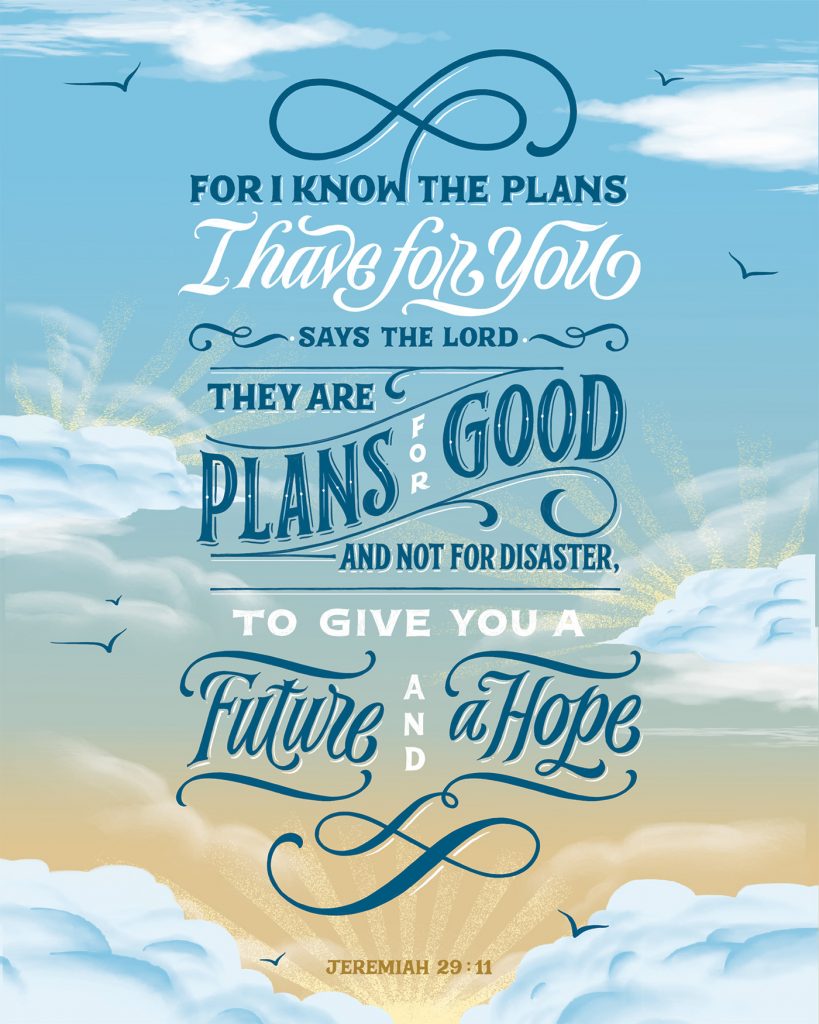 Dig Deeper:
What are the dangers to a "prosperity gospel?" How do we live life when Jesus calls us not to be rich, popular and powerful but instead commands us to not be caught up in materialism and to be humble in servanthood to others?
October 1: Psalm 40:5
October 2: Isaiah 55:8-9
October 3: Proverbs 16:9
October 4: Proverbs 19:21
October 5: Romans 8:28
October 6: Proverbs 3:5-6
October 7: Job 42:1-2
October 8: Psalm 32:8
October 9: Psalm 33:11
October 10: 2 Peter 3:9
October 11: Proverbs 15:22
October 12: Proverbs 16:3
October 13: Psalm 145: 18
October 14: Isaiah 58:11
October 15: 1 Corinthians 13:12
October 16: Isaiah 14:26-27
October 17: James 1:5
October 18: Psalm 37:4
October 19: Matthew 6:33
October 20: 1 Corinthians 2:9
October 21: Proverbs 23:18
October 22: Proverbs 16:1
October 23: 1 John 3:20
October 24: Psalm 139:4
October 25: Job 37:14-16
October 26: Isaiah 46:10
October 27: Hebrews 4:13
October 28: Psalm 50:11
October 29: 1 Samuel 16:7
October 30: Matthew 10:30
October 31: Philippians 4:19
Comments