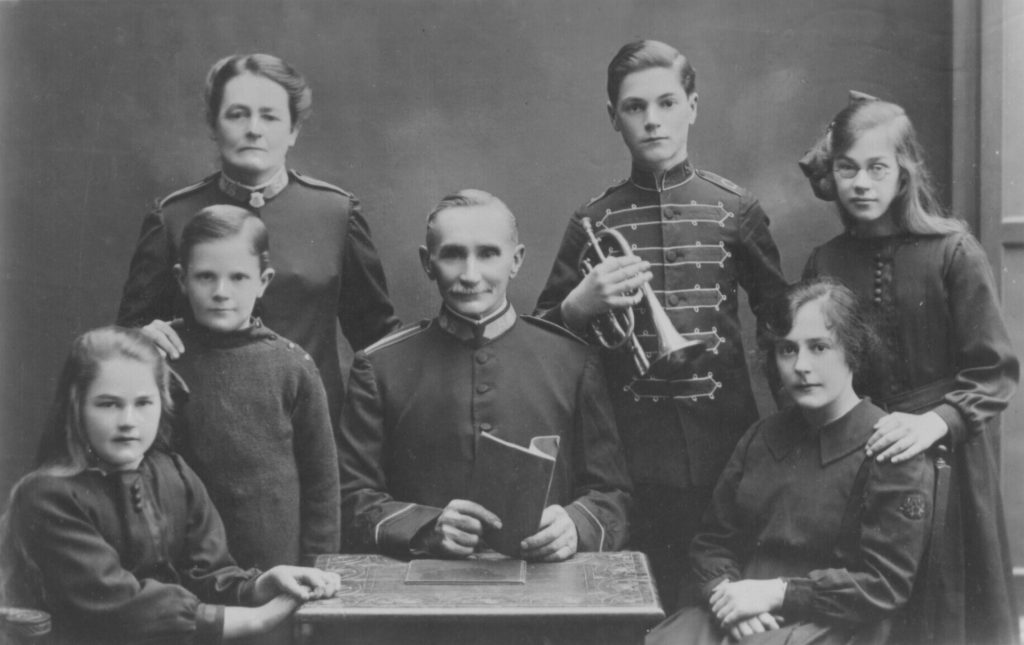 Adam Scott from Parks and Recreation. Celebrity chef Rachael Ray. Chris Martin of Coldplay. Classic rocker Billy Joel. And pop singer Katy Perry. What do they all have in common—besides frequenting stage and screen, and making some serious bank for it?
They each rock two first names.
Having a double-barreled name may cause some people to do a double-take—especially when you've got the same name twice, as this month's Walking Dead character, Alexander Alexander, does. But beyond the configuration of letters, people's talents and what they make of those gifts allow them to make a real name for themselves.
Major Alexander Alexander not only turned heads by his unique name, but by his radical living for others and denial of self.
THE SWEET LIFE
Born in Aberdeenshire, Scotland in 1861, Alexander Alexander left this quiet village of Kemnay at age 22. Looking for a different life, he crossed the Atlantic Ocean and arrived at British Guyana. There, the sugar industry was booming, and Alexander landed a senior manager position at a sugar cane plantation. He stayed there for five years, building up his fortune, and what many would consider an excellent future.
Worldly success wasn't satisfying enough though. After that fifth year, Alexander took a long holiday back to his homeland, hoping to build up his health and refresh his mind.
UNUSUAL FINDINGS
When he returned to Scotland, he found his village "stirred out of its accustomed quiet by the advent of The Salvation Army" (Down in Demerara). He was greeted by hand-clapping, flag-waving, and excited shouting for the Lord.
"The reality behind this new and unusual expression of the Christian faith spoke to his condition. He, too, had a burden of which he desired to be free and, once clear of it himself, felt he must tell others of the grace of God which had wrought such a good work in his own heart" (Down in Demerara).
The following year, Alexander entered a Salvation Army Training College. Once he became an officer, he served for a short period in Scotland, and eventually made his way back to British Guyana. In 1896, he officially resigned his job at the sugar plantation and dedicated his life to helping the poor and needy.
A MAN OF THE PEOPLE
In British Guyana, there was a large community of Indians, many of whom were indentured servants. Alexander's heart had a soft spot for them, as he knew and worked with many of them at the plantation. As an officer, he made it his mission to sacrifice for them so they could have a better life.
Alexander was so dedicated to this cause that he gave up his Scottish way of living. It was not uncommon to see him pedaling on his bicycle wearing traditional Indian clothes as he petitioned along the Essequibo Coast for ministry funds, or to see him treading barefoot through the streets preaching the Gospel of Jesus Christ. Beyond his new wardrobe, he changed his name to Ghurib Das, meaning "servant of the poor" in Hindi, and became a vegetarian. Alexander learned early on that if he wanted the community to respect him as a teacher, he had to exercise a great deal of self-denial, and he was happy to do so.
WALKING THE WALK
Alexander's daily motto was "I serve." Here's a few ways he put his motto into action.
Alexander opened his first shelter in 1897. Instead of the poor sleeping on the cold and dirty streets, they could find a bed for a penny a night. For about eight cents a day, a hefty three meals were also provided. Alexander always prayed with and for those who entered the shelter, and read to them from the Soldier's Guide he kept in his pocket. In October 1900, War Cry reported the Indian poor were getting back on their feet with the help of Alexander: "[the Indian paupers] had declined from about 400 to 110; their three shelters were providing accommodation for 250 every night."
By late 1898, Alexander opened a home and school for poor Indian children and orphans.
At the shelters, evangelic meetings were conducted five times a week, and there were special services for children. According to a Canadian War Cry from Christmas 1904, "some hundreds of Indians have publically come forward to give themselves to God." A number of them also became Salvation Army soldiers.
ORDER OF THE FOUNDER
For 30 years of unwavering dedication, service, and self-denial that brought others out of poverty and into the knowledge of Christ, Alexander received the Order of the Founder in 1926.
---
CHRIST'S PASSION FOR YOU
Have you seen Mel Gibson's The Passion of the Christ? Or recently thought about what Christ's sacrifice on the cross really entailed? As Christians, we hear "Christ died for our sins" so often that at times we fail to fully recognize what He went through for us.
Christ's suffering was cringingly brutal: nails hammered into His hands and feet, a crown of thorns pushed into His skull—the Person who formed and created them in Heaven, being killed by them on Earth. For hours, He who suspended the Earth upon the waters was suspended upon a tree. He was mocked, whipped, and beaten for nothing He did wrong. This was to take on our sins. The depth of beauty and love in the story of Christ's passion and resurrection is the most beautiful love story ever told. And it directly involves you—Christ's love. For even if you were the only person on Earth, Christ still would have died on the cross for you.
TAKE UP YOUR CROSS (Matthew 16:24-26)
As we go through Lent, there may come times when we feel giving something up is "too hard" or "too much of an inconvenience." In light of what Christ has done for us, we truly have it easy. If you're feeling discouraged at all this Lent, look to the cross. Reflect on Christ's passion (which literally means "suffering" or something one would die for). As small as your sacrifice is, offer it up to God from your heart. Don't just give up junk food for 40 days as a sort of New Year's resolution to be "healthier." That's more about you than it is about God. Give up something difficult for God. Deny yourself of your regular pleasures—similar to how Alexander Alexander radically denied himself—as a thank you to Christ for all He has done for us.
LENTEN CHALLENGE
Why not try something different this Lent, and intentionally work on giving up a specific habit or sin you're struggling with? For example, you could give up cursing, gossiping, or complaining. Or anger, jealousy, judgment of others, or anything else you're struggling with at the moment. It's okay to stumble along the way, just as long as we don't give up and we offer our efforts up to Christ. Remember though, our salvation does not come from anything that we do ourselves. Rather, salvation is a free gift from God (Ephesians 2:8-9).
This article was originally published in the March 2017 issue of YS. Photo Credit: The Salvation Army Archives, International Heritage Centre
Comments