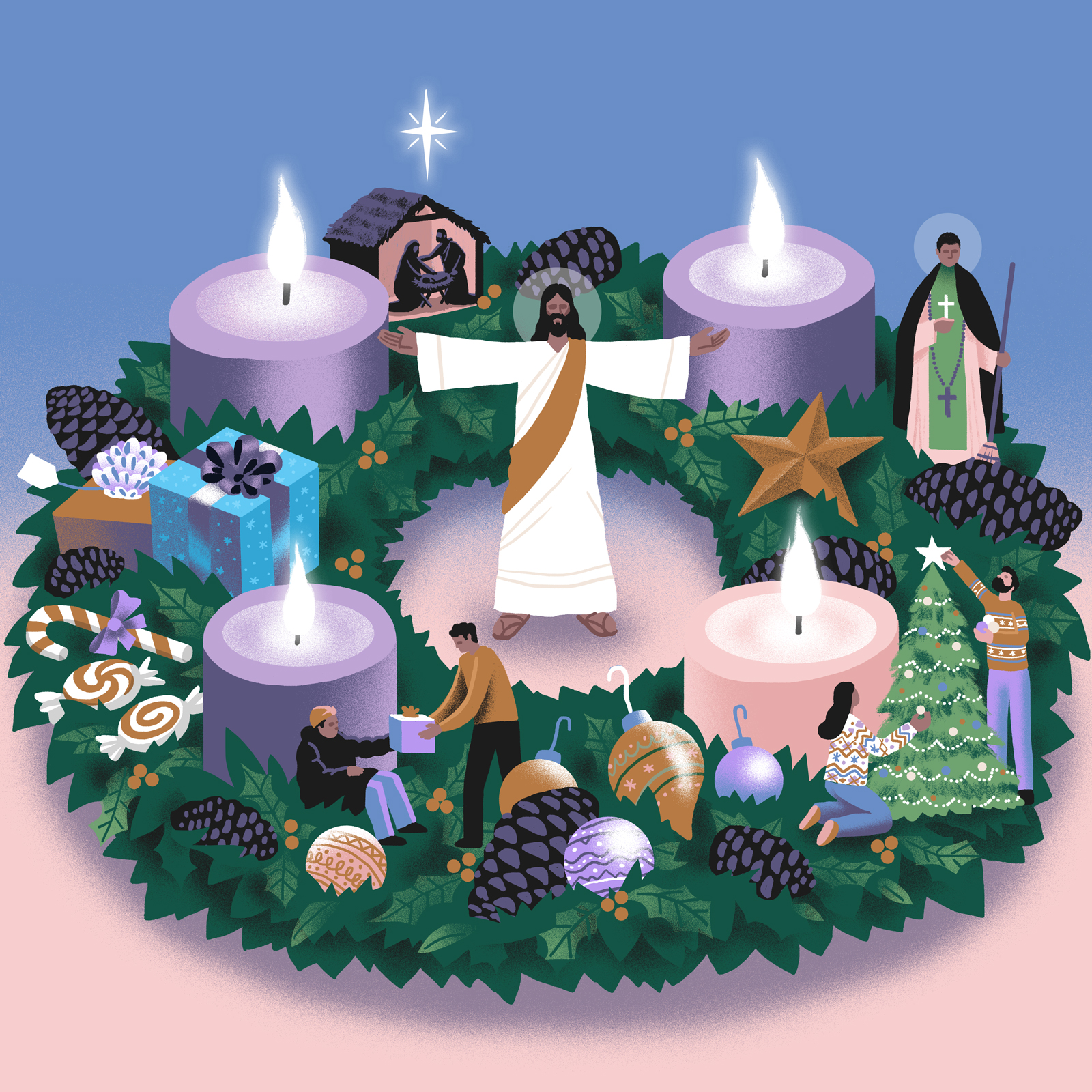 Image Credit: Matt Chinworth
Adventus
"Messages of hope, joy, peace and love culminate in the final service of December."
A specific ritual takes place in our house every weekend after Thanksgiving. It includes climbing in the attic and grabbing all the green and red plastic totes that we put away a year ago and carrying them back down into the living room. While Thanksgiving leftovers remain on the bone, we've already set our sights on another holiday; one that's still over a month away.
The stores have been telling us for weeks that Christmas is coming, and if you're part of The Salvation Army, well, you've been reminded about this day since school started.
You can almost smell it in the air, can't you? Picture it with me. Peppermint candy canes hang next to shiny crimson baubles. Sweet-smelling pine branches secure the strings of hand-crafted ornaments, made from kindergarten clay. A freshly opened, apple-scented candle burns in the dimly lit background, while chocolate chip cookies bake in the oven. Sparkling white lights, strung from post to post, are nestled together in green garland accentuated by ruby red bows.
And then you hear it; the merry jingle of sleigh bells amid the familiar music fills the room, a melodic ensemble of brass horns, underscored by sappy lyrics crooned from artists recorded over 50 years ago. Everything about the four weeks between Thanksgiving and Christmas screams melodramatic sentimentalism. Ugh.
There's a lot of people who want to talk about the past at Christmastime. Everything seems to be a reminder of what traditions are carried on from generation to generation. I don't know about you, but I'm more concerned with Christmas "present." Or should I say, Christmas presents! Truth be told, you've probably already working on your Christmas wish list, and if you haven't … well, there's still time.
Because, for the next four weeks, you will be unable to escape the Christmas spirit. Holiday reminders will continue to be everywhere—at school, at work, even at church.
Yes, even the church seems to wade through four weeks of ritual that idolizes the past. Ancient carols, left unsung for months, now herald the lighting of purple and pink candles. Selected families gather each week to read a poem, reflect on a Christmas memory and breathe a prayer together. Messages of hope, joy, peace and love culminate in the final service in December. That's when congregations will gather in comfortable Christmas sweaters to symbolically place the "oh so cute" baby Jesus, center stage in a wooden manger, lined with hay and surrounded by small children with sheets tied around their heads. The lights will dim as flames dance from candle to candle to the tune of "Silent Night," unaccompanied in four-part harmony.
Welcome to the pageantry of the Advent season.
But this is not what Advent was supposed to be.
What Does Advent Mean?
You might have heard of this thing called "Advent," a period of 30-some days, or four Sundays, that leads up to Christmas Day. Maybe it's easier to think of this period like the season of Lent that precedes Easter. In the same way that many "give up" something for Lent, Advent also started as a time of fasting, a time of sacrifice and preparation leading up to Christmas. Advent was supposed to remind us of the long suffering of those who waited under the cruel Roman occupation, holding out hope that the Messiah would someday come and transform their lives.
In fact, the New Testament uses the word Advent, but not in a way that you would expect. The Latin word "adventus," is translated from the Greek word, "parousia." The Parousia was of great concern to the early church, but referred not to the birth of Christ, but to the second coming of Christ—His return! The early church continued to suffer great persecution even after Christ's first appearance on earth. And so, they waited in anguish, sacrificing their very lives for Him, holding out hope, that soon Christ would return and make all things new.
The History of Advent
That persecution ended in the early fourth century when the Roman Emperor Constantine made Christianity the official religion of Rome. One of the soldiers who fought for Constantine's new "holy" empire, was a man named Martin; he had converted to Christianity as a young man. Martin eventually retired from his service in the Roman cavalry and joined the priesthood of the Catholic church, establishing a monastery in what we will later know as France, eventually rising to the position of Bishop of Tours.
It is for the venerated "Saint" Martin years later, that a feast would be celebrated, throughout the Holy Roman Empire, each year on November 11. The Feast of St. Martin was not unlike our American Thanksgiving. It consisted of a large feast where the community gathered to celebrate—signaling the end of the harvest season—an expression of gratefulness for the blessings of God, upon the fruits of their year-long labor.
It is not until the fifth century, however, when the Bishop Gregory of Tours, a successor of Saint Martin of Tours, calls for the Church to fast after the feast of St. Martin until Christmas Day—a period of just a little more than 40 days, called the "Lent of St. Martin."
But this period of fasting AFTER the Feast of St. Martin, was not about reminiscing on God's faithfulness in days gone by, but in lamentation of a day yet to arrive. The early church would have "hated" our holiday Christmas decorations. In fact, up until the modern era (about 100 years or so), what we mostly call Christmas carols weren't even sung in the month of December. Imagine Advent without "Joy to the World," and "Hark the Herald Angels Sing" but instead songs like "O Come, O Come Emmanuel" and famous Gregorian chants like "Of the Father's Love Begotten." These were the only songs allowed to be sung during this period.
So, When Is Advent?
You see, Christmas doesn't officially start until December 25. On this date, much like the Easter celebration after Lent and Good Friday, there would be an incredible celebration lasting 12 days (cue the 12 drummers drumming) until Epiphany on January 6. This was established as the final date of Christmas, when they would celebrate the closing of the Christmas season with wise men arriving from "the east."
Now, chances are, you never knew about St. Martin, unless you grew up Catholic in France. So, in the 14th century, under Pope Urban, the date was changed to November 30, to commemorate the feast of St. Andrew the apostle. These four weeks were eventually established.
A Celebration To Remember
But for most of our Advent/Christmas adornments, we can attribute to the Germans. In 1839, a Protestant Lutheran pastor made a wreath out of the same evergreen trees that decorated their houses and churches, with four candles. One candle was lit each week, so that the children in poverty with whom he worked, would know how close it was to Christmas.
And then they would celebrate.
So, the next time you are invited to a holiday Christmas party, all decked out in the finest of ornamental decorations, say a quick prayer for the poor. Say a quick prayer for the suffering. Be reminded, not of the fact that soon you will get to unwrap your favorite present, but that soon Christ will return, to proclaim good news to the poor and bring justice to the suffering. The Advent of Christ is not only for the rich and those who show off the greatest decorations. The Advent of Christ is for those who patiently wait in hope, for Christ to make all things new.
And that's something to celebrate.
for further study
Four Reasons to Celebrate Advent:
Celebrating Advent helps us to "prepare Him room" by intentionally pausing during the busyness of the season.
Celebrating Advent with our church family builds community.
Advent is a reminder that we are part of a bigger story.
Advent reminds us that we are still waiting, anticipating the return of Jesus.
Comments